In The Land Of Shiva – A Memoir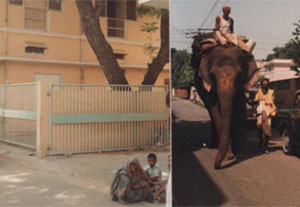 Our Delhi apartment and street, in the Civil Lines area of Old Delhi, 1980-81.  Most foreigners lived in the more modern enclaves on the south side of New Delhi. But I preferred our tree-line old neighborhood, and living just a block from India's second sacred river, the Jumuna.
Our home consisted of 2 floors of adjoining apartments, with a flat roof which had an additional bedroom.  In the morning, with a cup of coffee in my hand, I might stroll our roof and notice neighbors out on their roof tops, practicing yoga or already hanging clothes out to dry.
For our own clothes, we hired a laundry-man, a dhobi, who would indeed bang our clothes on rocks at the river's edge, and return shirts to us with buttons cracked.
Not far away was the Oberoi Maidens Hotel, to which I would escape on hot evenings when I was home alone, to read in their air-conditioned lobby.