In The Land Of Shiva – A Memoir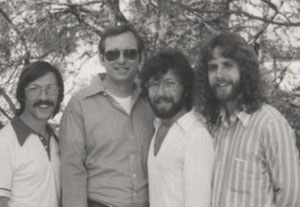 The four pioneers, or, as some called us, The Gang of Four: Jim, Gerry, Joe, and Steve. Photo taken on the roof of our Delhi apartment, 1980.
At the time of our arrival in India, January 1980, I was 38, Gerry 37, Joe 36, and Steve 26.
I had managed to obtain student visas for us, and we enrolled as special students at the Jesuit seminary in Delhi while trying to get "the lay of the land" for our own foundation in India.
Both Joe and I were experienced high school teachers, Steve was a talented artist, and Gerry was an accomplished chef as well as pastoral minister.
How did our backgrounds prepare us for our task of starting the Brothers in India?
That which prepares us, all of us, for our major roles in life is primarily the quality of our lives up to that point.