In The Land Of Shiva – A Memoir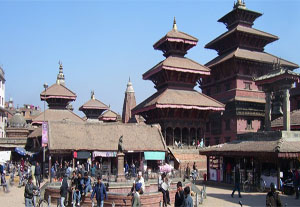 Kathmandu Temple Square.
Nepal is officially a Hindu country, and its historic temple squares are not only tourist attractions, but places of daily worship and social gathering.
This scene is the temple square in Patan, a part of Kathmandu, but at one time one of the three kingdoms that held sway in Kathmandu Valley.  (The third kingdom was Bhaktapur, about 7 miles east of Kathmandu.)
Our landlord had a fabric shop facing this square, and he seemed grumpy even when we arrived to pay our rent.  Only later did we learn he was "sitting in" as landlord for his brother, who was off studying in Seattle.
Several of the temples in this square were featured in Bertolucci's 1993 film Little Buddha.
Few places in Kathmandu held as much charm for me as this very vibrant temple area, where shopkeepers and sadhus (holy men) mingled, small boys flew kites, and their fathers gambled during festival time.
Sadly, the April 2015 earthquake destroyed much of this UNESCO World Heritage Site.