In The Land Of Shiva – A Memoir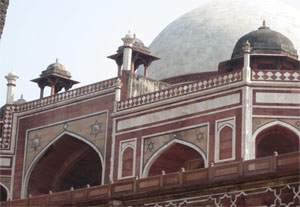 Emperor Humayan's tomb in Delhi.  Note the Star of David on this Muslim structure.
One's breath is indeed taken away coming upon this amazingly well-proportioned edifice.
Its architecture, the forerunner of the Taj Mahal, is what many have come to see as very "Indian."  Yet, the Mughals arrived in India only in the 16th century, from Persia, with Turk-Mongol origins.
Christians have been in India since the first century (on the Malabar coast, southwest India), long before arriving on the coattails of the Portuguese and British, yet their religion is still often seen as rather "foreign."
What does it take to become "part of the country"?  When has one fully "en-culturated" into another land? Especially a land as complex as India?
These words are of the late German-born writer Ruth Prawer Jhabvala: "I have lived in India for most of my adult life.  My husband is Indian and so are my children. I am not, and less so every year." (Out of India.)