In The Land Of Shiva – A Memoir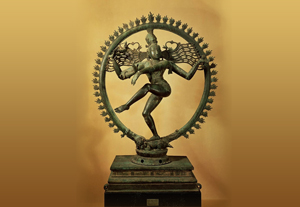 From the book cover:
When Brother Jim leaves his comfortable life teaching in Catholic high schools and travels to India, he finds himself unprepared for the challenges he faces.
As he immerses himself in a land of unfamiliar customs and ancient religious traditions, he soon discovers that his mission has become deeply personal. Brother Jim questions not only all his vows, but his deepest beliefs.
On the eve of celebrating his Silver Jubilee as a Brother, Jim must decide what he really believes and how he wants to live the rest of his life.
India and Nepal, with all their clamor, fascination, and surprises, come alive in this memoir set in the 1980's.  Indeed, In The Land of Shiva offers the reader a rare glimpse into several worlds: the private life of a Brothers' religious community, the drama and curiosities of India's hidden backstreets, and the mystique of Kathmandu."
In Hinduism, Shiva is called the Destroyer.
His is the destruction of what is no longer needed, the shedding of old habits and attachments, and the dropping of the illusions of ego.
To purchase the book, available in early 2014 as both an ebook and hard copy, visit: www.amazon.com
Read excerpts below:
THE PULL OF GRAVITY
(In a rural area visiting young Indian men who wished to become Brothers. A "lungi" is a sarong-like wrap-around worn by men in India.)
I needed a brief getaway, not only from the ashram itself, but from the crushing heat that built up each day by noon. A forest with a shaded pond, Barto said, was just a twenty-minute walk away. He showed me a path that would take me past a small village and led to that cool and pleasant place. It sounded like a good plan.
My umbrella helped ward off the afternoon sun, and I felt relatively comfortable in the lungi I had wrapped around my waist. Within a few minutes I came alongside the village where the men, resting during the heat of the day, sat on logs in front of their homes. Anticipating that as a foreigner I would receive silent stares, I waved to show I was friendly.
I suppose it was my quick movements that caused my lungi to come loose and fall off. The men stared. I froze. When I could move, I placed the umbrella on the ground and made furtive efforts to retie the lungi securely, a skill I thought I had mastered. A few children laughed as I hurried away to the jungle.
I wondered what I would say to Barto when he asked about my walk , but surprisingly he didn't ask me anything. The following morning, however, he invited me to accompany him to purchase rice. Assuming we were going to the bazaar, I headed toward the main road outside the ashram gate, but Barto explained we were going the opposite direction. "We buy rice from the village just down the path, the one you passed yesterday on your walk."
THE THING TO DO
The British did at least one thing right in India.
Along the craggy ridges of the lower Himalayas, they created towns to which they could flee during the Hot Season. These were small enclaves where roses bloomed, fir trees scented the cool air, and pretentious clubs served Scotch and soda. A half-day's bus ride northeast of Delhi lay one such "hill station," Mussoorie, where Joe and I joined Steve and Gerry for May and June. At 6500 feet, Mussoorie was indeed a cool oasis, and happily it possessed a language school, just perfect for us.
We rented a small cottage outside of town and soon became accustomed to living in an area where almost no roads were level for more than twenty feet. Our mornings were spent at the language school, evenings found us studying our Hindi lessons, and afternoons were for hiking in the fresh mountain air—a schedule that appealed to all of us.
On the paths that crisscrossed the mountainside, I was surprised to encounter a number of Americans, mostly Protestant ministers, who were "old hands" in India. They possessed secure resident status, as well as quite circumscribed religious views. One of them, Mrs. Smith, wife of a thin-faced minister, liked to gather other expatriate Christians around her table for luncheons of chicken salad, boiled peas, and white potatoes.